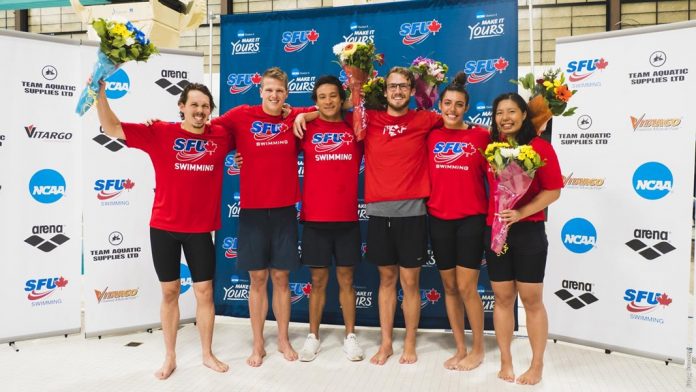 On Friday, January 18, SFU hosted UBC and UVic for a swim meet on Burnaby Mountain. While SFU were not quite able to keep up with their Vancouver rivals, they dominated the Victoria swimmers with ease. There were multiple strong performances from SFU athletes, which bodes well for the swim team as they prepare themselves for NCAA DIV II competition.

SFU sophomore Jayden Cole was the first to take a first-place finish at the event, doing so in the 100-meter backstroke. He swam an impressive 57.20. In the same event, teammate Jimmy Zhang finished third with a time of 58.60.

Gabriel Lee also managed a first-place finish in the 100-meter butterfly event with a time of 55.81.

SFU senior Mackenzie Hamill was his usual strong self, topping his third-place finish in the 200-meter freestyle by winning the 400-meter freestyle with a time of 4:04.20. He will certainly be one of the Clan swimmers to watch closely for the rest of the season.

SFU made their presence known in in the 200-meter backstroke, taking three of the top four places. Collyn Gagne (2nd, 2:02.07), Cole (3rd, 2:05.31) and Rolando Hernandez (4th, 2:06.88) all impressed in the event.

Gagne, however, improved on his second-place finish by winning the 200-meter individual medley with a time of 2:05.70. Teammate Andrew Woinoski finished in third with a time of 2:10.93.

The other Woinoski (Tim) also claimed a top spot in the 800-meter freestyle, finishing second with a time of 8:24.45.

On the women's side, Jessie Gibson had a great race in the 200-meter butterfly, finishing first with a time of 2:16.35. Her teammate Erin Lawrance finished third in the race with a time of 2:18.58. Gibson also raced well in the 200-meter backstroke, finishing second with a time of 2:20.26.

Kristen Olvet also had a strong meet, highlighted by her second place finishes in both the 800-meter freestyle and the 400-meter freestyle. Her times were 9:09.40 and 4:26.66, respectively.

Where SFU really shined, however, was in the relay events. Cole, Antonio Marino, Lee and Adrian VanderHelm combined for a first-place finish in the medley relay with a time of 3:46.19. This was followed up by a first-place finish in the 400 meter freestyle relay when VanderHelm, Hernandez, Mathew Fuller and Lee finished with a time of 3:25.96.

The women finished second in both relays. Gibson, Jordan Doner, Kaleigh Sharkey and Sara Whelan combined for a time of 4:20.19 in the medley relay, while Gibson, Kennedy Loewen, Sharkey and Whelan joined forces in the freestyle relay.

What's next:

The team will prepare itself for a meet against American competition on Saturday, January 26 when they travel down to Idaho. They will be facing off against the University of Idaho and Grand Canyon University.