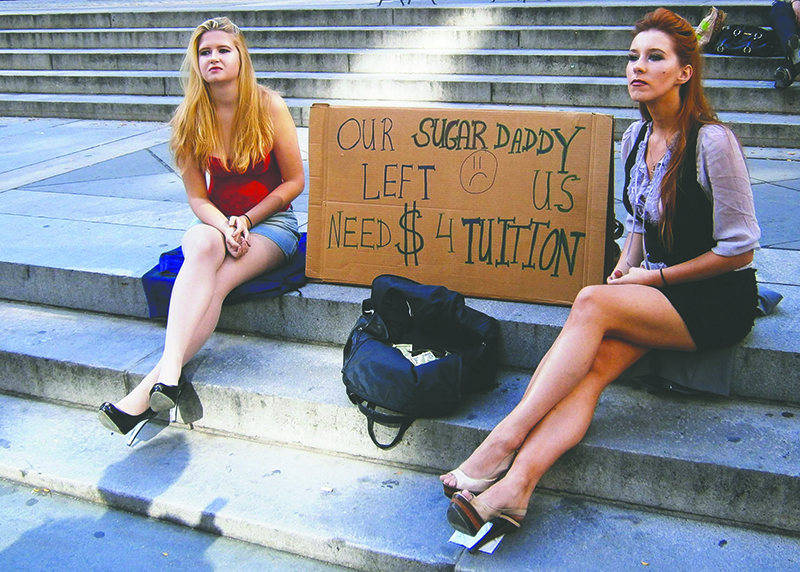 A new study from the website Seeking Arrangements suggests that Simon Fraser University is among the "fastest growing sugar baby schools in Canada," with increasing numbers of students using it as a way to both pay for tuition and as a dating app.
According to the website, 280 SFU students are currently registered as "sugar babies," meaning that over a quarter thousand students are financially taken care of by a wealthy, older person (a sugar daddy or sugar mama) in exchange for companionship.
SFU students had already turned to the app over previous years, with only 31 students being classified as 'new' to the website from February 2015-2016. The University of Toronto had the most new students signed up during the same time with 133.
According to the press release accompanying the study, sugar babies receive over $2,600 on average in monthly allowances. To help attract students, free premium membership is offered to anyone that either registers with a school email or shows proof of enrollment.
Marina is a student at SFU who has chosen to keep her identity anonymous. She's also a sugar baby, and has been for a few semesters now. Speaking with The Peak, she said that she found it to be a great way to pay for tuition, even before the worldwide economic crisis hit in 2008.
"I just heard a lot of horror stories about going into debt, and this seemed like a way to avoid it that was up my alley," said Marina. "It's basically like a fancy dating site, except I set my terms and conditions and walk away from it with a bit more cash than if I was using a real dating site.
"I think there is a weird stigma about it. I'm basically deciding who I want to spend my time with outside of school. A lot of them really just want someone to care about, and have the advantage of just being able to pay for it instead of hoping for something to happen."
Even though Seeking Arrangement's press release with the story says that students are turning to the site because of tuition hikes and budget cuts, this isn't a brand new trend for students, and it has been going on across the country for a while.
Denise graduated from the University of Calgary last year, and she paid for the latter half of her undergraduate degree through being a sugar baby. She identified as a sex worker while she was using it, and clarified that she only keeps her identity anonymous because she doesn't want her parents to find out.
"I would meet on the 'first date,' as you would call it, and decide if I would go on more dates with them. If I liked them enough, I would sleep with them. Sometimes I didn't have sex with them, because either I didn't want to or they weren't looking for someone to sleep with," she said.
"A lot of sugar daddies I found wouldn't want someone to sleep with. They just wanted someone to escort them when they went to fancy parties so they could have someone attractive as their date, but not somebody who was going to embarrass them."
Not all students on the site end up having sexual encounters. This was the case for Shane, a recent graduate from SFU, who saw it more of just a dating app.
"In my experience, I've met a bunch of people off [Seeking Arrangements], but none have ever escalated to a relationship," he said. "I've never actually engaged in intercourse with anyone I've met through the website.
"I've never been specifically paid for it, it really did just feel like a dating app. I was never handed money, I never asked for money."
These are only a few of the experiences of those using the website, and do not represent those of all of its users. With 280 students at SFU, there are likely a variety of individual stories to be told.