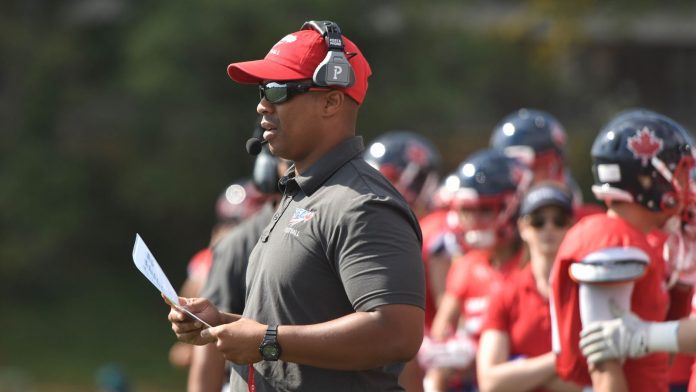 As we begin 2019, it's always good to look ahead at some exciting things that could happen in the new year. In SFU sports particularly, there is a lot to be excited about in the near future. Can SFU football win their first GNAC game since 2014? Can SFU men's soccer advance to the national tournament? How will Emma Pringle fare in her senior season? Find out what excites us in SFU sports in 2019 here.
SFU men's basketball to make the postseason
It's still very early in the GNAC season, but the SFU men's basketball team has been playing some really good ball to start off the year. They're 1–1 in the GNAC so far, but are 7–3 overall this season, and have yet to lose at home. The team is moving the ball much better than they were last year, and they're finding their shooters when they need to. Improved size is helping their efforts on defence and rebounding, which were two areas that needed improvement from last year. It will be a grind, but the Clan should be competitive in 2019.
SFU swim team at NCAA Championships
After finishing with an incredible 14 All-American performances at the NCAA Championships in 2018, we're excited to see what the SFU swim team has in store for this year. The team has had a strong start to the 2018-2019 season, with multiple SFU records already broken this year. Look for big performances from Mackenzie Hamill, Rolando Hernandez, and Adrian Vanderhelm on the men's side, and Jessie Gibson and Kaleigh Sharkey for the women.
A big 2019 for SFU track and field
SFU track and field is poised to have a very successful season in 2019. The women's side in particular looks incredibly strong. Led by seniors Addy Townsend and Julia Howley, who have both had amazing SFU careers so far, and with a strong supporting cast, the team is set to compete at nationals with the possibility of making a lot of noise at the national tournament. The group had an all-american performance last season, when they finished third in the distance medley relay in Pittsburgh, Kansas last year. Look for them to improve upon that mark this year.
SFU football to win their first GNAC game since 2014
If Las Vegas had odds on SFU football winning a conference game in 2019, I would put some money down. Not only because I actually believe it could happen, but also because the odds would probably be pretty generous. The Clan lost two GNAC games by only one possession in 2018, both by a score of 23–16 to Humboldt State University. In Thomas Ford's second season as head coach, I think it's fair to expect some improvements by the squad. We'll win one of our matchups against Humboldt State this year.
Emma Pringle to dominate the GNAC
After being a top scorer in the GNAC her first three seasons at SFU, look for Emma Pringle to dominate once again in 2019. In fact, we would be surprised if she doesn't lead the entire conference in scoring. In the last three seasons, Pringle has finished with nine, 14 and 11 goals respectively, always finishing in the top three in her conference in scoring. Look for her to go out strong in her senior season at SFU, and lead an exciting SFU offence.
SFU men's soccer to get another shot
Yes, the Clan have won three straight GNAC titles, but at this point, that is not enough for a group that knows that they are one of the best in the entire nation. For three straight years, they have faced Cal Poly Pomona to advance to the National Championships, and for three straight years, they have been shocked in defeat. While the team will be losing important seniors such as Mamadi Camara and Michael North, the rest of the group will be gaining another year of experience. With key pieces like Matteo and Marcello Polisi, Connor Glennon, Aidan Bain and others returning, look for 2019's group to win another GNAC title, and possibly do a lot more.