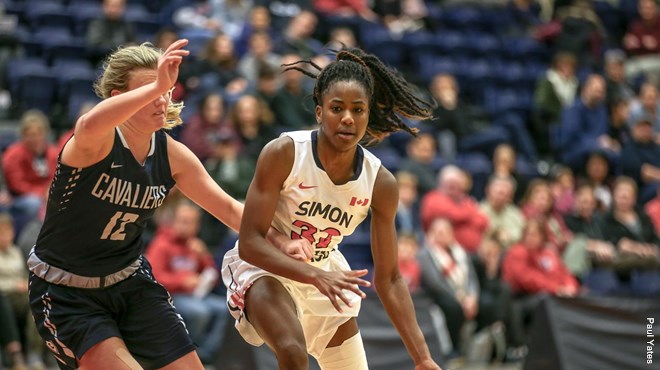 After a slow start to the GNAC season, the Clan are firing on all cylinders, winning their fourth straight game on Thursday night when they hosted the Central Washington Wildcats. Ozioma Nwabuko was a big part of that, but overall, the team played well.

Despite the double-figure victory, the teams were neck and neck throughout the contest. Jessica Jones got the ball rolling with a three-pointer on the games first possession, but no matter what the Clan did, the Wildcats kept battling back. A layup from Kendall Sands in the final minute of the quarter gave SFU a 19–18 lead, and it would stay that way heading into the second.

Central Washington led for most of the second quarter, where the Clan offence stalled a bit. By the end of the half, the Wildcats held a 34–32 lead, and everyone in the gym knew that it was anyone's game.

Sands led all scorers in the half with 10 points off of the bench, including scoring a three-pointer and hitting all three free-throw attempts after being fouled while attempting a three. At this point Nwabuko hadn't broken out yet, scoring six points in 14 minutes in the half.

In the second half, the Nwabuko show got on its way.

Everything she attempted in the second half worked its way into the basket. She went 7–7 from the field, 4–4 from the free-throw line, grabbed nine rebounds and played all 20 minutes in the second half. Her energy on both sides of the court got the Clan out to a seven-point lead in the third quarter after she capped off an and-one layup with a made free throw.

Fast forward to the end of the fourth quarter, and clutch free throw shooting down the stretch allowed the Clan to pull of the victory. Sands, Tayler Drynan, and Sophie Swant all hit there free throws in the final minute, and SFU would eventually win 79–69.

The team is now 6–3 in the GNAC this season, tied for third overall with Central Washington in the conference. SFU is 10–6 overall on the season.

Peak player of the game: Ozioma Nwabuko

The clear choice, Nwabuko did not put a foot wrong in the second half and was a huge part of the Clan's success. Finishing the game with a 24-point, 11-rebound double-double, she looks like she has recovered from her injury suffered last season quite well.
What's next:

SFU will now host the top team in the GNAC in the Northwest Nazarene Nighthawks. The Nighthawks are undefeated so far this season with a perfect 9–0 record in the GNAC and 17–0 record overall, but the Clan are rolling right now as well. This should be a good one.

Tipoff is at 5:15 p.m.