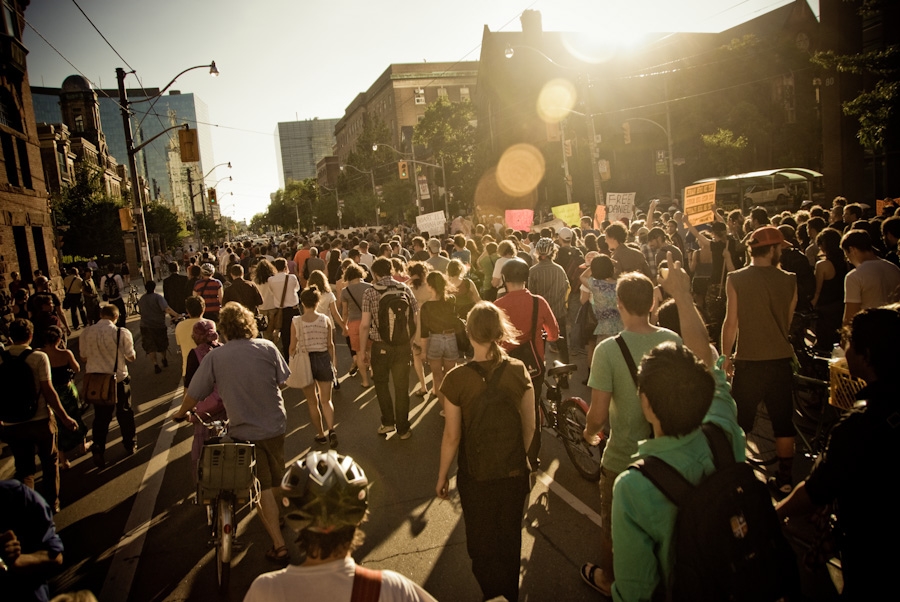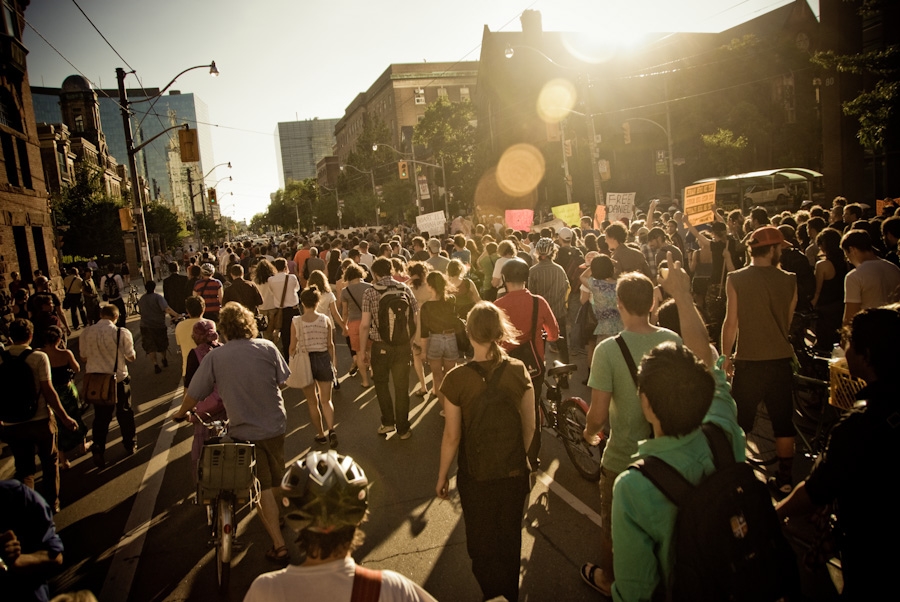 In a quiet room nestled in the SFU Woodward's building, Stephen Collis addressed what it means to resist as a community in his lecture "Riot Dogs and Research Labs — Poetry and Struggle."
The event was the fourth in a collection of talks, performances, public auctions, publications, and an exhibition that have made up the project Spaces of Contestation: Art, Activism and the City. The compilation, curated by Mariane Bourcheix-Laporte, examines the collective walk/protest/public demonstration as both a performance and a social formation.
The series was presented by SFU's Vancity Office of Community Engagement, the SFU Institute for the Humanities, and UNIT/PITT Projects. This fourth talk was a critical discussion in how to negotiate the future and build considerable capacity to resist what we don't wish to see in our world, but also how to evoke alternative ideas about what we do want.
Collis is a poet and professor of contemporary literature at SFU. In his work, he invites us to embark on a journey of exploring the capacity to resist. In this dialogue-centered presentation he focused on three "spaces": the street, the commons, and the future.
He began with the street, the most obvious contested space. When we — in Vancouver and the Western world — "take to the streets," we are rebelling in a way that could be categorized as safe compared to acts of civil disobedience in other parts of the world.
For example, not only do many of us feel confident that nothing terrible is going to happen to us when we go to a demonstration or march, but protests in the city are safe in that they are often even escorted by the police force themselves.
Collis asked, "Are street protests rooted in the past?" He referred to the language around these events as well as their "reactive" nature. If we are simply reacting to something that's already been initialized, what are we ignoring? Despite these thoughts, he said that the street is an important place of contestation as it builds capacity for resistance in a direct and immediate way, and it frustrates the state authorities.
Protests in the city are safe in that they are often even escorted by the police force themselves.
Collis then explored the "commons," spaces characterized by shared livelihood. We have been dependent on common ground, he reminds us, throughout history.
Before the 17th century, there was absolutely no concept of private property: everything was communal. He urged us to see that in recent decades, capitalism has continually enclosed (privatized) these spaces, rendering different ways of thinking essentially impossible.
He evoked a sense of yearning for these places to which we have lost connection with a beautiful poem titled "Blackberries"; it's about a berry patch that thrived in an abandoned lot, a junk space, off of Prior Street in Vancouver. The wild thorns and fruit draw our attention to a space absent of market relations and state. The berry patch represents another site where resistance occurs in a reactionary form.
Collis is interested in timelines — where do we cognitively map things in time and space? He explored the idea that we are always thinking of ourselves either in the past or in the future. It is fitting, then, that the third space he investigated is "the future."
In the arena of climate change, he explained how we think of the future as an absolute — something that has basically already happened.
Corporations are already counting on burning all the CO2 that is still in the earth, as if it were already extracted and ready to go. As he explained, "Here we are, the dead of all times dying once again, but now in order to live." He emphasized the importance of functioning as a "we" — a collective — in the future if we want to actualize futures that have not been created yet.
Reactionary resistance, he concluded, isn't really about having true freedom and creating positive change. It is a negative discourse we employ as a way of saying, "no, I don't want that." Alternatively, capacity building moves beyond what's happened in the past to proactively create alternative realities. It is this positive capacity building that Collis wants to continue to engage in, through his poetry, studies, and dialogue with others.