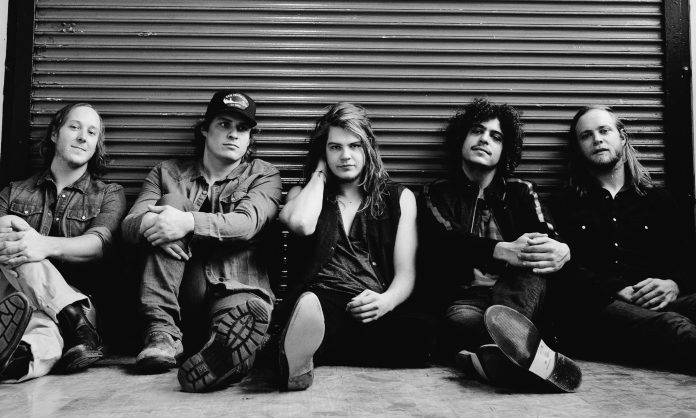 Kingston Ontario's The Glorious Sons will soon release a new album, The Union, just days after they play in Vancouver. Brett Emmons, the band's singer and keyboardist, says the group's growth is reflected in this, their first full-length album.
"We're maturing as musicians and as people," he says. Brett was invited by his brother and Glorious Sons guitarist, Jay Emmons, to sing for the band after quitting post-secondary school in Halifax to pursue music. According to him, the group has been the same close-knit five guys since then.
"Everybody's open to everybody's ideas," he says, "and we're all just trying to do the same thing: write great music that means something to us and means something to others."
Their new album is driven by hard rock beats, distorted blues riffs and melodies, biting yells, and group vocals. Jay, described the album as spanning from "acoustic, to campfire, to ballad, to straight-up rock."
The sound could be said to stand somewhere near '70s and modern rock, similar to that of The Black Keys or Kings of Leon. This straight-up, classic sound is also common among many current Canadian bands, including The Sheepdogs, or locals Yukon Blonde and Bend Sinister.
Brett names both Kings of Leon and The Abbott Brothers as band influences, and says the classic Allman Brothers and Rolling Stones make for much of their touring music. He admits to being "a super fan of Bruce Springstein and Jackson Brown," as well.
These influences only emerge "in hints" in their music, Brett explains. While they love many different bands, they're not the type to copy others' sounds; they're more interested in bringing ideas to a jam session and exploring them. "It's all about writing what you want to write; it's not about trying to sound like anybody or trying to recreate the magic of Springstein," says Brett.
This love is evident in the new album, with songs that stick together cohesively, yet don't get stale on their own, and don't sound like carbon copies of each other. The album tells a story of a passionate, creative group who care about making music, first and foremost.
Brett is thankful for the rock and roll roots The Glorious Sons draw influence from, as well as the appreciation he sees of this in Canada. "I think it's really loved by the country, and it's one of the best music scenes around," he says. "I believe that basically everything we have today has at least been touched by rock and roll. Everybody's been influenced by the Beatles."
While many older people love classic rock, it is still appreciated by Canadian youth, who have proven that they "would rather be listening to that than anything else," he says. Jay echoes the sentiment, saying that Canadian rock is a staple that a lot of Canadians listen to "to help get through the day."
When it comes to breaking into international scenes, Jay and Brett both allude to doing so, but right now they're focused on what they have. "We're young and we're hungry," says Brett, but right now he's thankful for their "real audience" in Canada.
He concludes, "We love playing rock and roll, we love a good audience, and we love when people hear our music."
The Glorious Sons will release The Union on September 16, and perform at The Commodore on September 13.