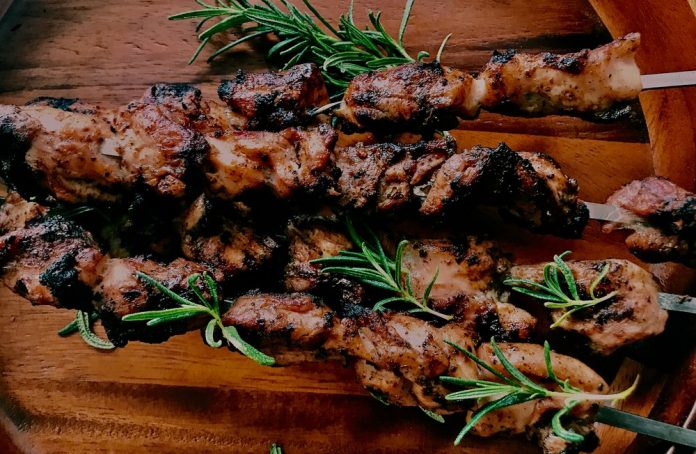 By: Alex Bloom
In March of 2017, Suya Life began. Now, as they celebrate their one-year anniversary, they have plans to expand their services. It started as a simple love of food, and that food was suya.
What is suya?
Suya is a Nigerian food that has been described as "one of the country's national dishes" by Deutsche Welle. Suya is a kind of meat skewer, typically beef, that is made with a special blend of spices — the exact makeup of which varies. It is popularly eaten as a street food, often served with chopped onions and tomatoes. A passion for this dish was one of the motivations behind starting Suya Life. "Our brand is focused on connecting people who want a little suya in their life, and are not afraid of trying something a bit spicy," says Kene Esomeju, brand manager of Suya Life.
What is Suya Life?
Suya Life describes itself as a community-based catering service — naturally, they focus on providing events with suya. "Suya Life is a social suya experience," Esomeju says. The service provides all-you-can-eat suya, and they have started taking booking requests. The project started as an offshoot from Skynation, a brand started by SFU alumnus Kayode Fatoba, which describes itself as "a digitally creative brand intersecting technology, entertainment and design." As Esomeju explains, part of the goal of Skynation is to "rebrand Africa." He goes on to say,  ". . . With suya being connected to the Indigenous heritage of members of the company, as well as part of the initial community that had supported the launch of the brand during its early start in 2013, the internal team would pitch this as a potential product to launch and strangely everyone from Skynation was on the same page."
     The beginnings of the project were humble, and grew with support from the community. Esomeju says, "The actual soft launch of Suya Life was quite small, with a sponsorship from Kara-Kata, one of the more prominent suya chefs, to a visit from Kuzi Mutonga — founder of African Business Forum — and the co-founders from Afro.ditie [Creative] a Vancouver-based African and European apparel company among a few other young professionals."
     The involvement of other professionals was a large part of what made the event rewarding. As Esomeju recalls, "Seeing a number of people who had never met before make connections to further their projects within the same market inspired the momentum that followed the brand . . . This response motivated the team and Skynation to take the brand a lot more seriously." The way that the community received Suya Life led them to the philosophy that the service is currently operating under, as Esomeju puts it "The right people were connecting over Suya in an environment that was conducive for a different type of networking and partying experience."
     Esomeju elaborates on this new direction: "While it might have been easy for the African community to have access to suya, or make it based on how their parents had taught them, Suya Life wanted to focus its brand on the social experience. Infusing Afrobeats and promoting a sense of fashion and professionalism into the movement became part of the brand growth."
The future of Suya Life
March of 2018 brought with it the one-year anniversary of the initiative's official launch, and Suya Life plans to expand their services this year. "Since 2017 saw such great interest from the community about getting involved in and collaborating with [Suya Life]. The team at [Suya Life] is working to grow the company," says Esomeju. Going forward they plan to use their website to put on and promote monthly events and opportunities. They also plan to begin implementing a booking and catering feature through their website this year.
You can visit Suya Life's website for more information.