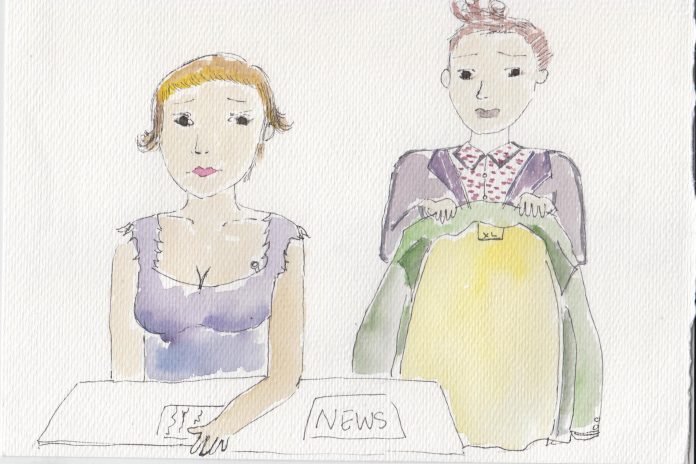 [dropcap]T[/dropcap]he morning weather report had never been so sexy — until recently. Last week, Liberté Chan, a meteorologist for KTLA in Los Angeles, was so harshly criticized by viewers for wearing a 'cocktail' dress on the morning weather report that her colleagues coerced her, while on the air, into putting on a cardigan to cover up.
The whole incident is a blatant example of sexism, and I want to both condemn those who have insulted Chan and applaud her on her maturity during the unfortunate incident.
Wearing a thinner-strapped, black beaded dress, slightly cut above the knee, Chan is simply conducting her morning report when an off-screen hand holds out a cardigan.
"What's going on?" she asks before taking the cardigan. "You want me to put this on?"
Another hand then reaches in to help Chan put on the sweater. "We're getting a lot of emails," replies a male voice.
"What? Really? OK," she says. "I look like a librarian now."
And while you're watching, shocked that this is happening, the man off-screen delivers a painfully sexist comment: "It's a librarian who's gone to a cocktail party."
Within minutes, Twitter and other social media platforms rightfully exploded with anger at the incident.
Firstly, while the comment was probably intended to be innocent, it really demonstrates, on television, that blatant sexism endures in the workplace.
This incident outright discourages women from entering news broadcasting, and delivers the message that women must be very careful in displaying stimulating body parts — such as shoulders, arms, and knees — in a professional environment. 
Secondly, I believe that KTLA viewers have no right to comment on the appropriateness of Chan's outfit. The dress was not overly revealing in any way, and wasn't distracting during her report. But even if the dress was inappropriate, KTLA viewers should have simply flipped the channel instead of outright insulting Chan via email.
Think about it: do you go up to every individual who you see wearing something you find distasteful, in order criticize them about it? No. You simply keep walking.
However, Chan displayed perfect humility in a response to the incident by saying that she is not insulted by her colleague's comment; nor did she seem hurt by the overwhelming number of distasteful comments she has since received online. I believe that Chan's modesty and positive response to the incident should be recognized and applauded.
While Chan didn't deserve the comment, or the criticism from viewers, she acted very maturely. She serves as a role model to women everywhere on how to dismiss sexism and negativity in the workplace.