By: Ahad Gahani and Youeal Abera 
thank u, next by Ariana Grande
Ariana Grande released her new album thank u, next (2019), a short six months after Sweetener (2018). Much, however, has happened since, including her break up with fiancé Pete Davidson and the tragic passing of ex Mac Miller, both of whom she appears to be referencing in "ghostin." She also namedrops both in the titular track "thank u, next." In "imagine," Grande's vocals, especially her whistle notes, are a standout.
The album is a blend of pop, R&B, and trap. From the very first listen, it sounds nothing like Sweetener. It's also her most personal and cohesive album to date, one that primarily deals with heartbreak, self-empowerment and growth. It goes to show that Grande is one of not many pop stars who could pull off two distinct, hit albums in the span of six months. Standouts include "NASA," "bloodline," and the chart-topping "7 rings." – AG
Head Above Water by Avril Lavigne
Head Above Water (2019), Avril Lavigne's first album in 5 years, details the singer's personal struggles in recent years, including her battle with Lyme disease. It's apparent from the lyrical content and the production that she's headed in a very different direction than past hits such as "Girlfriend" and "Sk8er Boi," albeit not the most exciting one. In the titular track, a pop-rock piano ballad, she details her relationship with God.
"Dumb Blonde," a song about female empowerment that features rapper Nicki Minaj in an unlikely pairing, gives the album some much needed energy. Other highlights on the album include "Tell Me It's Over" and "Birdie." However, tracks such as "Warrior" and "Bigger Wow" are weak and prevent the album from amounting to much. Head Above Water is bland and lacks personality, and in a year that is bound to have some big releases, it is likely to be forgotten. – AG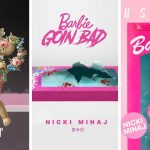 Nicki Minaj's "Barbie" tracks
On February 2, Nicki Minaj hosted the 11th episode of her wildly successful radio show, Queen Radio. Throughout the duration of the show, Nicki premiered two new freestyles titled "Barbie Drip" (a take on Lil Baby & Gunna's "Drip Too Hard") and "Barbie Goin' Bad" (a remix to Meek Mill and Drake's "Goin' Bad"). Then, on February 6, Nicki dropped a new freestyle titled Bust Down Barbiana (an ode to Blueface's Thotiana). With the consistent releases of hard-hitting freestyles, fans and music critics were treated to a reminder of just how in tune Nicki Minaj is with hip-hop culture.
Whether it's a guest-feature or a deep-cut on an album, Nicki's pen is always something to notice. Her intelligent flow and witty wordplay are especially discernable when she's having fun on a remix, a truth discovered in her three recent freestyles. Nicki's skills were particularly evident in Bust Down Barbiana as she rapped lines like "I been a bad bitch, cockiana/ And I'm still winnin', Pacquiana . . . killin' everybody beat/ Thank you, next, Ariana."
With the sounds of these recent freestyles, Nicki's upcoming album is sure to keep showing the power of her pen. – YA