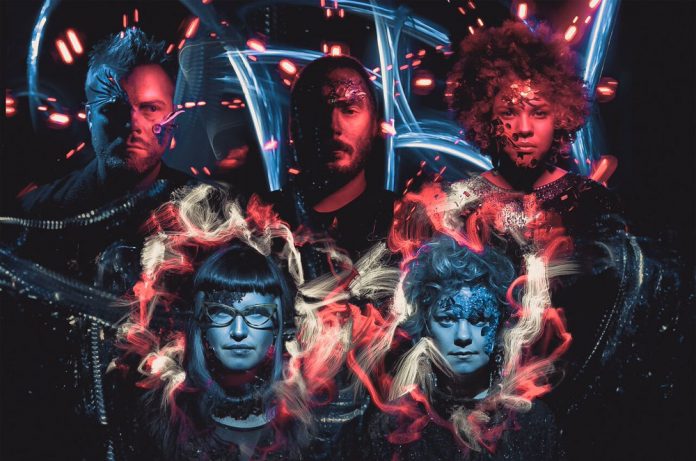 Every year, something magical happens on an island in the middle of a river, in the middle of a city in Alberta. This happening is known as the Calgary Folk Music Festival. This was my first year attending and throughout the whole festival I was thinking to myself, "Why have I never done this before?"
Aside from being an overall amazing festival experience, it also was an opportunity to discover new (to me) musicians from across the genre. The following artists are some of my favourite finds from the festival.
Lemon Bucket Orkestra
My first exposure to the self-described "Balkan-klezmer-gypsy-party-punk-super-band" was under a tent on a Friday afternoon. Since then my life has been forever changed. The band, composed of more instruments and musicians than one could hope to list here, is what you musically want for any celebratory event — even if you didn't know you wanted it. Lemon Bucket Orkestra mashes up traditional-sounding songs with modern sensibilities that will make anyone — including your prudish grandma — dance.
Foy Vance
Prior to Folk Fest, I had heard of Foy Vance and listened to some of his music, but didn't really think much about him other than, "He has a pleasant voice." But after seeing him perform alongside the Bros. Landreth and interact with the Dudes, Bobby Bare Jr., and Bry Webb, I realized just how wrong I was to overlook him. Vance naturally has an unassuming charisma that draws you in and makes you hang on to each blues-tinged note that comes from his mouth. While his recordings soften some of his edge, "Make It Rain" and "Upbeat Feelgood" are just as powerful on the record as they are on stage.
Cécile Doo-Kingué
I have always wanted to learn how to play the guitar; it's on my ever-growing list of things to do, that somehow always gets beat out by Netflix. But upon hearing Cécile Doo-Kingué play I realized that I didn't just want to play guitar — I wanted to become her. Listening to her play gave me goosebumps, even though it was at least 25 degrees outside. Doo-Kingué's music feels very much of the present day, but also of a time when it was more important to play individual notes as opposed to chords. It also doesn't hurt that her lower singing voice is a perfect mix of soul and the blues.
The Weber Brothers
When you Google the Weber Brothers, the first page that comes up is their own, boasting the title of "The Baddest Band in the Land." This is really all you need to know about them: they are bad, but in the best sense of the word. There aren't that many bands that can mix '70s-inspired rock with an upright bass and DJ, but they can. They are everything you want from a band: beautifully produced studio work, and a live show that is just as much about musical talent as it is about the performance itself. The interactions between the band members were truly spectacular to behold — especially when Ryan Weber and Rico Browne played one upright bass at the same time following a friendly bass-playing competition.
Moulettes
Any band that has a song inspired by sea creatures is cool by me. Even if they sucked, I would still respect Moulettes just based on that fact. Lucky for me though — and everyone else present — they don't. While they are folk-y, it is in the vein of Of Monsters and Men, but bigger, badder, less pop-y, and more Björk-y. Their latest album is titled Preternatural, and it truly encompasses what their sound is. It is beyond what we think music should be yet, much like a mythical creature residing in the deepest parts of the ocean, there is enough believability in their music that it stands up to scrutiny — even if there are people who aren't fully convinced by it.
Want to actually hear these musicians? Follow thepeaksfu on Spotify and look for the Calgary Folk Fest 2016 Highlights playlist. There may also be some bonus bands thrown in just to capture the magic of the island.