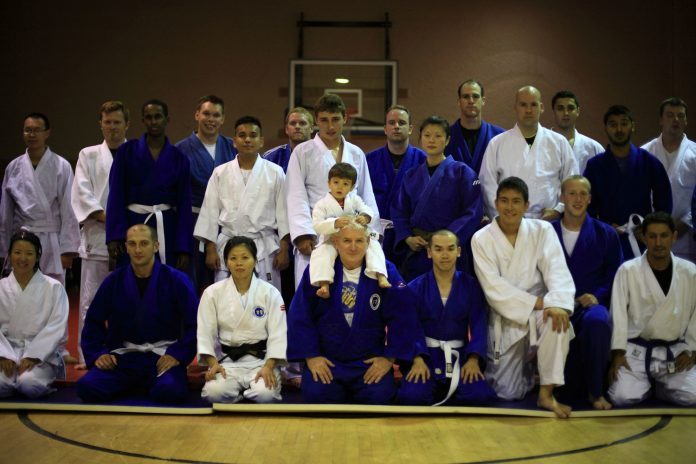 By: Navya Malik
For those who are looking to get a workout while developing their combative skills, SFU Police Judo offers an opportunity to learn law-enforcement-ready techniques while developing your body and ability to defend yourself. Police Judo at SFU aims to offer a fun and safe environment, allowing you to work with well-experienced instructors with a variety of law enforcement backgrounds and comprehensive judo training.
Police Judo opened up at SFU in 2010, now has 300 official members, and has proudly trained thousands of people — a practice created "for the police and by the police," as instructor Al Arsenault likes to call it.
While the program has enjoyed its successes, it did not get to where it is now overnight for program creators Tim Ladler and Brian Shipper. "Randori" (code for one-on-one sparring sessions) gave many new members injuries when the club first began. After weighing the risk/reward, Ladler and Shipper began to make some changes.
"The classes now provide a safe environment and are open to everyone, even for those with no experience, under the guidance of instructors and referee," as instructor Arsenault stated in a message to The Peak.
Judo-specific workouts involve strength training which gives students an opportunity to build strength while enjoying martial arts. Police Judo not only expects its students to adhere to the physical aspect of training, but also, to the mentality and ethics of being a disciplined person. Hinton, from his past experience, spoke about the importance of being ethical: "Not everybody's going to be cooperative, easy to deal with, or rational, but we have to figure out the most ethical way to deal with that given we have a job to do."
Today, with the aim of creating a safe and supportive environment, Police Judo is established as a safe skill to practice when done properly, and is not dependent on skill level. Police Judo adheres to the same belt ranking system as traditional judo, which starts from white belt, and moves on through yellow, orange, green, blue, brown and finally black belt.
Police Judo offers a perfect blend of training for those who are interested in law enforcement, being relevant to job demands and authorized under National Use of Force model. Police Judo is also proud of its representation, as it welcomes people of all races, genders, and ages. It    follows the philosophies of traditional judo, "taking care of one's partner" along with "mutual benefit and welfare."
Juniors, not just adults, can be a part of Police Judo, through what is called "SFU Police Judo Juniors." It is a great opportunity for juniors to have a headstart, which will help them gain strength and endurance for future Police Judo.
Launa Hinton, 17 years old, is the first junior from the Police Judo Junior program to pass her black belt Shodan exam. Arsenault proudly talks about her journey, as Launa started her judo practice at the age of three years old at the old Vancouver Police Department gym, and went on to compete in local, provincial, national, and U.S. competitions consistently throughout the last four years.
Exciting news for enthusiasts of Police Judo: the team is currently working to develop an online store for Police Judo merchandise. As Sergeant Hilton mentioned that "some people may not think this is real-life police work because of the judo outfits," the outfit represents the spirit and confidence of participants which has forever played an important role in the life inside and outside of Judo.
For those interested in checking out Police Judo, the instructors provide sessions every Tuesday and Thursday, from 7:30 p.m. to 9:30 p.m. at the SFU Central Gym.