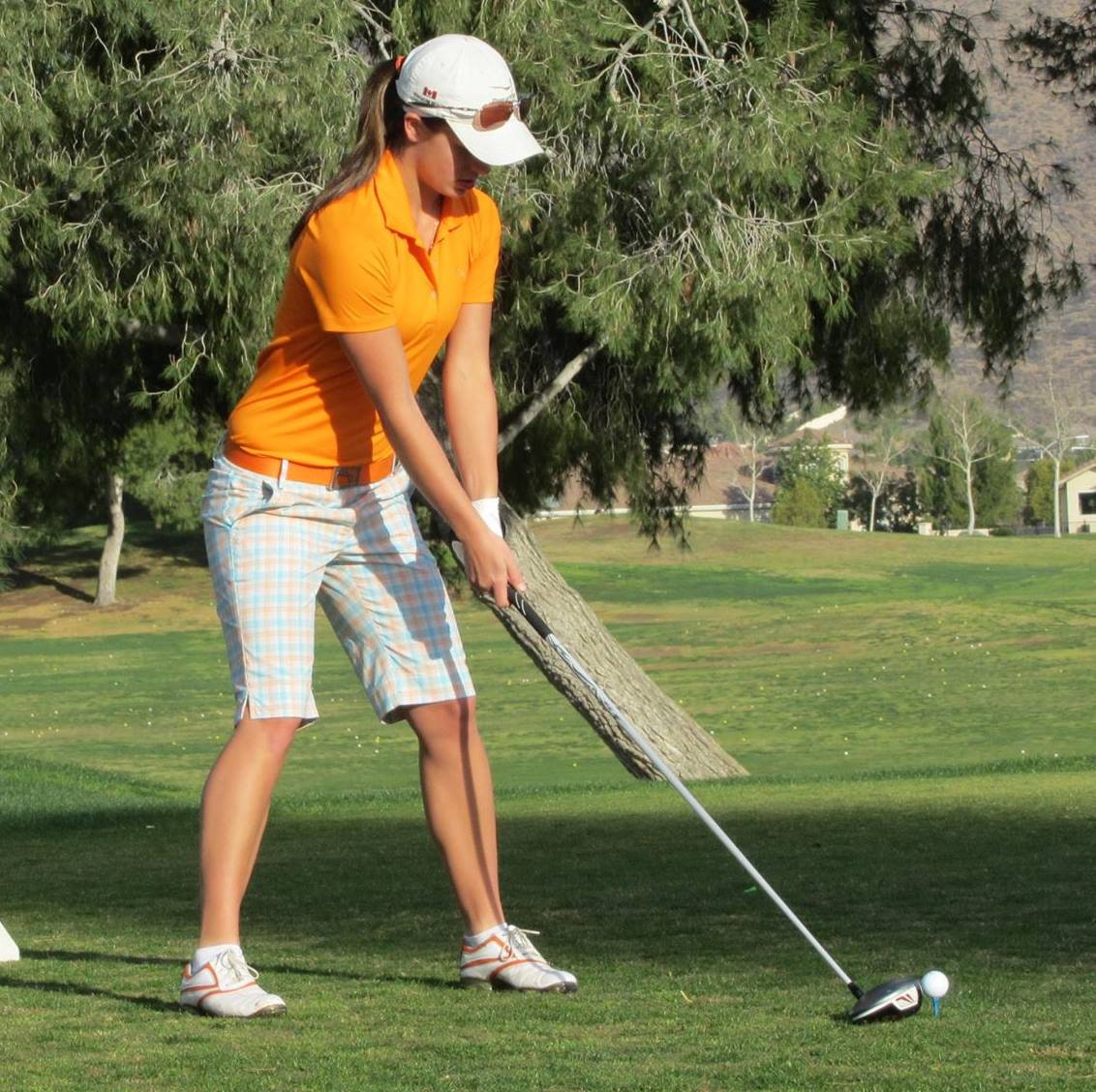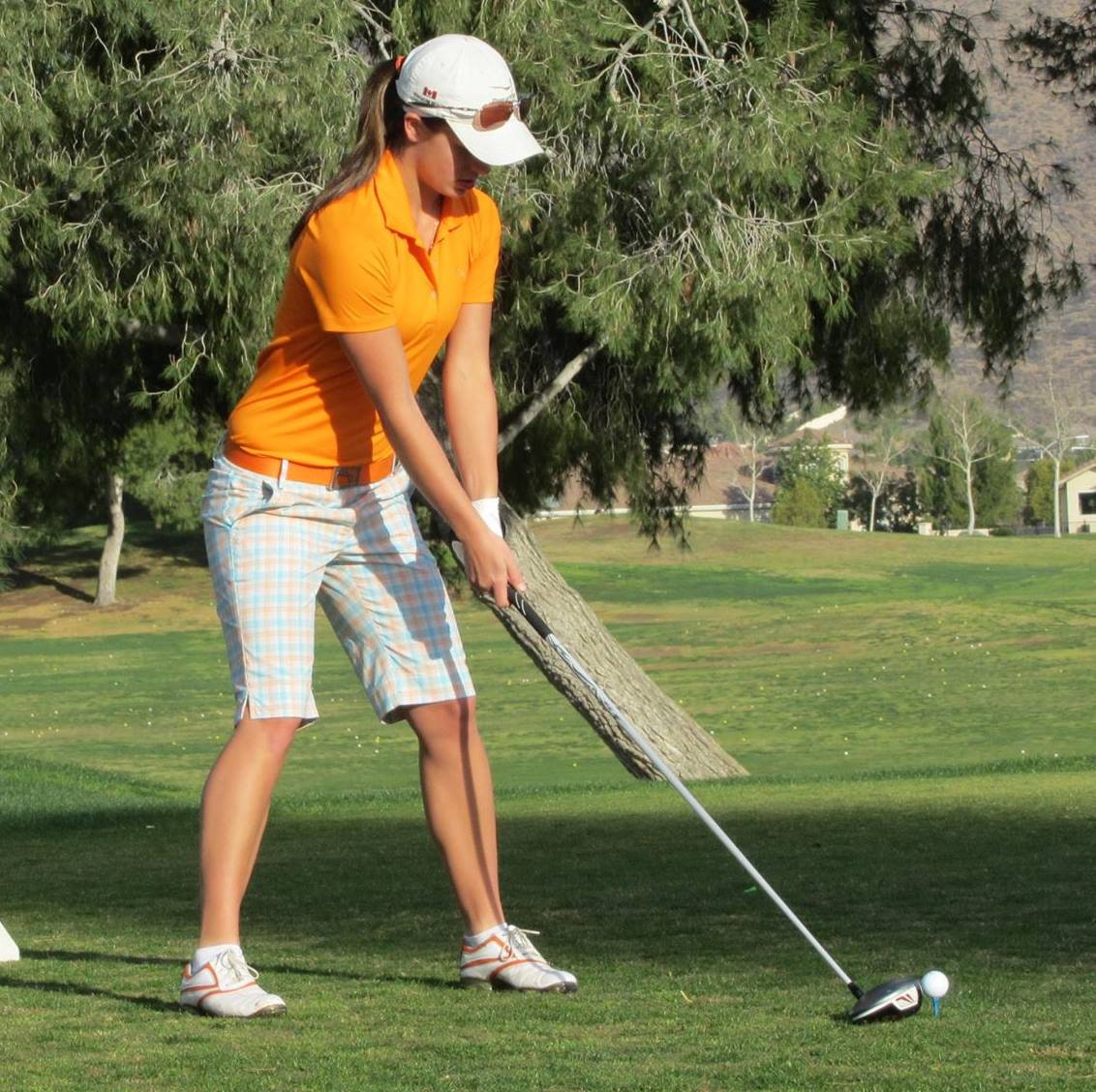 One reason golf is such a challenging sport is the emphasis on the mental game. Although the physical fundamentals are certainly important — and a challenge in their own right — the most important aspect of golf is keeping your head in the game: not getting too flustered when you hit a bad shot and not getting ahead of yourself when you're shooting well. This is something freshman Michelle Waters knows all too well.
"It's really about what's going on between your ears," she notes.
"Unlike high-impact sports like basketball or soccer, you can't lash out when you're on the golf course, and my biggest challenge is getting too up or down on myself. I've learned to maintain a level head," Michelle says. "My dad used to say to me that 'if you hate golf, golf hates you'. That is something that has always stuck with me."
Michelle is quickly becoming one of the Clan's top golfers in the program this season. But she can still recall a time when she'd rather be at the driving range than the course.
"I didn't enjoy tournaments in the beginning," she laughs. "I was terrible when I started, and wanted to get better."
Early success in the sport inspired Michelle to take an interest in golf that she had never had with any other sport.
"Golf was the first sport [where] I applied myself, and by my third tournament I broke 80 for the first time. The opportunity for success in a women's sport was better in golf than basketball and soccer for me."
It didn't hurt that Michelle landed a job at a golf course via a family connection at 14 — a job that allowed her to golf for free.
"A year later, I was playing competitively," she notes.
Hailing from Qualicum Beach, a small town on Vancouver Island, Michelle's early success with at SFU speaks volumes to her ability to adapt, as she moved out on her own for the first time. Though home isn't too far away, she does admit that it can be difficult: "Being away from home is tough. The combination of living on your own and new sense of freedom are new to me."
Michelle is proud of her adjustment to SFU, and her desire to achieve a high level of success in every facet of her life has fueled her ambitious goals for the future.
"My goal this year is to travel to all the tournaments, while averaging a score of 78, all while balancing my schedule at SFU," she explains without hesitation. "I want to see the SFU women's golf team become more of a force, make a name for myself, and ultimately have a lasting impact legacy on the program.
"If it works out, I would like to maybe take a shot at professional golf. It's not set in stone, but for me to get there I [need to] play scratch golf."
If Michelle can break 80 by her third tournament, becoming a scratch golfer is definitely something achievable.
Joining two other freshmen on the team, Michelle is part of a young nucleus who plan on taking the women's golf team to the next level. In the recent Vikes Shootout in Victoria, it was the freshmen that led the team to a third place finish. Michelle also led the team at the Pioneer Shootout in California to a 10th place finish, with a team-low round of 77 for a two-day stroke total of 158.
Michelle acknowledges that the nerves never quite go away — she just has to play through them.
"Usually before a tournament I'm a little anxious, and I'll try to calm myself down my hitting shots on the range and whatnot. But it doesn't really go away until after the first swing of the day that counts towards the score," Michelle admits.
"There's no real method to the madness, I just have to remind myself that every shot counts and to keep calm, because there's no redos in golf. From that point on, I just try to take everything in stride."
FUN FACT:
Best Round Ever:
"My best score is one over on a par 70 at a course called Qualicum Beach Memorial, I was playing in a one day Zone Six Junior Summer Tour Event. It's a nine-hole course where I went 34 and 37 for a total of 71. Except I was a little peeved after the round because I lost by two shots, so when we were checking scores I accidently signed for a 72. That's a mistake you only ever make once."