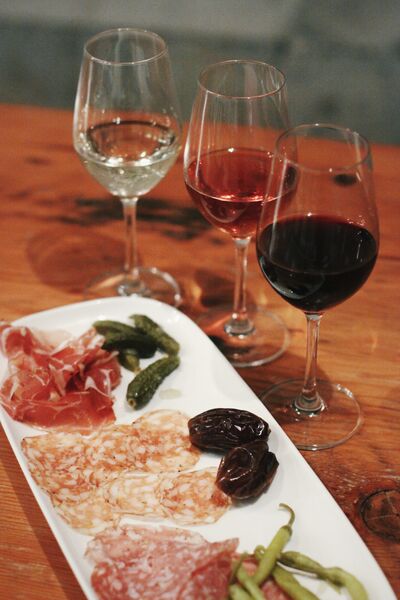 Tucked away in the alley just across from Blood Alley Square is a gem of a restaurant, Salt Tasting Room. While not new on the Vancouver restaurant scene, this hidden location makes it feel like a new discovery when you walk down the alley at night and see the beautifully lit restaurant with a minimalist salt shaker sign out front.
Aside from its beautiful exterior, the inside of the restaurant is a mix of warm wood and cool concrete, and the overall feeling is reminiscent of a warm and inviting modern loft.
This atmosphere lends itself well to the style of menu featured at Salt. The focus is placed on local and high quality imported cheeses and cured meats, meaning that there is a high rotation in the menu. In place of printing new menus at an alarming rate, the selections of the day are written on chalkboards, one by the open kitchen area and another much larger on the back wall.
The tasting plates that can be created out of the options written on the boards are astounding. You can take control of your experience based on the explanations that the highly knowledgeable staff provide, or you can place your trust in the staff and allow them to make the selections for you. I chose to do a combination of the two, letting the server know which meats and cheeses I was intrigued by, and then allowing the server to fill the rest of the plate with side dishes.
Some highlights from the cheese tasting plates included the Shropshire blue cheese from the UK paired with a local honey from the Similkameen Valley and the locally produced Jurassic cheddar, which was aged for eight years and featured a thin ash layer through the middle, and paired with Spanish almonds.
The meat plates included standouts such as the pancetta salami, which had a mild flavour but stood out due to some excellent seasoning and the addition of piquillo peppers. There was also the outstanding pairing of the fatty rich coppa with piccalilli relish, which balanced the fattiness of the meat and allowed its the true flavour to shine through.
Salt also features an exceptional wine list that offers only BC wines, save for a sherry section dominated by Spanish varieties. Again, much like the meat and cheese selections, the wine list changes frequently, sometimes on a weekly basis. The emphasis on BC wines gives a place for some truly wonderful vineyards to be discovered by the adventurous connoisseur. One such vineyard is Moon Curser, based in Osoyoos. They are known for producing big, bold reds that pair well with many different foods — surprising, given that bold reds tend to dominate the palate.
A dining experience at Salt Tasting Room should not be passed up. The secluded location gives a feeling of secrecy and spontaneity, and the food makes it feel like you've just discovered one of Vancouver's best kept secrets.